Article
A Roadmap for Couples Facing a Dementia Diagnosis In NYC
The Memory Advocate Peers program supports couples newly diagnosed with dementia.
What should you do when your loved one is newly diagnosed with Alzheimer's? Receiving this life-changing news can shatter your world, so it is important to receive the right resources and support. A new peer support program hopes to help by pairing those who are new to the community with experienced care partners.
Memory Advocate Peers program (MAP) is piloting their program next year, in collaboration with affiliated research sites and physicians located in New York City. MAP aims to connect people newly diagnosed with mild cognitive impairment or Alzheimer's, alongside their caregivers, with volunteer mentors who have been caregivers to their partners with Alzheimer's.
Alzheimer's advocate Jim Taylor learned most everything he knows about the disease from his wife Geri, who lives with Alzheimer's and has participated in clinical trials for Aduhelm. During the COVID-19 lockdown, Taylor realized that the need for more support for families, especially in the first year after diagnosis, was deeper than ever. Further, he thought, people who have lost their partner to Alzheimer's may be looking for ways to give back. This is what inspired him to found MAP.
"[Family caregivers] become experts in caregiving and the medical system," Taylor told Being Patient. This expertise could be invaluable to couples where one of the partners has just been diagnosed with dementia.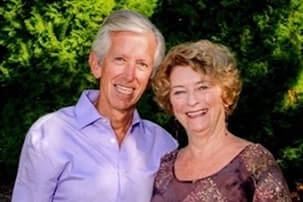 "There's an emotional need for both the person with the disease and the care partner, and we want to bring them information about the disease they're living with," Taylor said. "And to titrate that information over the year to not inundate them." MAP will provide training to former caregivers to help them become mentors to other families, educating and empowering them to share resources on everything from self-care strategies for advocates to living purposefully with dementia.
Helping individuals who have been touched by the disease is just part of what Taylor hopes to achieve with MAP—he also wants to help the community on a much broader scale, through raising awareness and sharing resources about how to participate in Alzheimer's research. While there are more than 100 experimental Alzheimer's treatments in the pipeline, the majority of clinical trials for potential Alzheimer's therapies are delayed due to enrollment shortages. The longer these delays, the longer families must wait for better treatments or a cure.
"We have the goal of getting 50 percent of our clients or care partners in or into some type of trial or research," Taylor said. The pilot will also focus on historically underserved Black and Latino communities, which are underrepresented in clinical trials.
"Many trials never recruit a sufficient number of participants," Taylor noted, adding that in recent years, Alzheimer's trials have ramped up due to increased federal funding, which has grown by hundreds of millions in recent years to $3.1 billion as of 2020.
Taylor believes MAP can help improve these participation rates through talking with doctors about the importance of recommending clinical trials to their patients, personally meeting with volunteers and program participants to discuss trial benefits and options, and even offering family-specific guidance on finding appropriate trials and trial sites.
According to Taylor, his wife Geri felt empowered by her trial participation, that she was making an important contribution toward finding a cure. "People don't understand the psychological benefit of being in a trial," he said. "This is a disease where there's very few positive actions you can take and I think being in a trial is one of those most significant and positive things you can do."
To learn about clinical trials of new medications that aim to modify the pathology of Alzheimer's disease, call Charter Research at 407-337-1000 (Orlando) or 352-775-1000 (The Villages).