News
Orlando Resident Confronts Alzheimer's Disease in Clinical Trial
After the FDA's approval of Aduhelm renewed hope for those living with Alzheimer's, Eli Lilly & Co.'s donanemab followed closely behind and received breakthrough status from the agency the same week.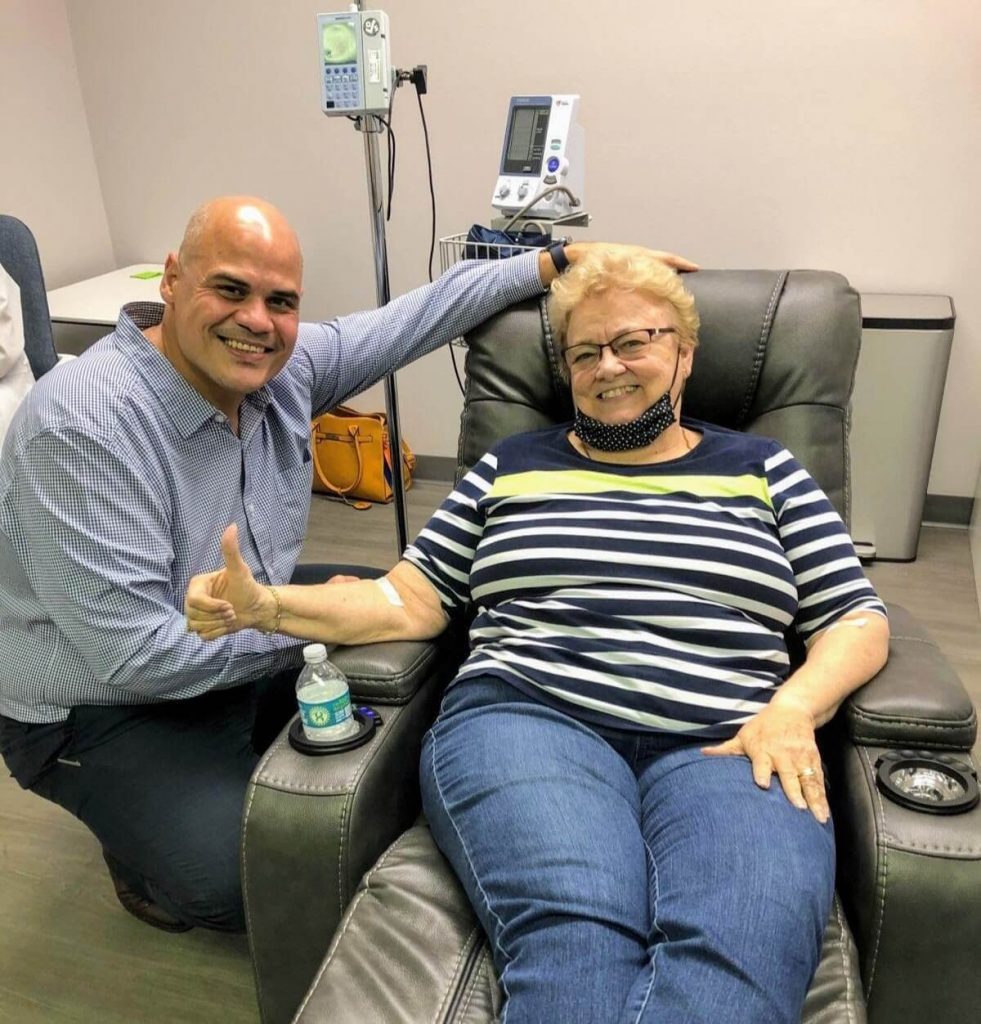 Eli Lilly's experimental Alzheimer's treatment, donanemab, is an antibody that attacks unwanted plaque buildup that is thought to contribute to the progression of Alzheimer's disease. In Phase 2 trials, the drug significantly reduced the rate of cognitive decline in some study participants. In fact, donanemab appeared to slow the rate of cognitive decline by almost one third.
Being Patient sat down with Joan Tiller, a participant in Lilly's Phase 3 trial of donanemab at Charter Research in Winter Park, Florida, to discuss her experience on the forefront of Alzheimer's research.
Being Patient: How long have you been involved in the study, and why did you decide to participate?
Joan Tiller: It's been three to four months. I started going to different doctors and I was referred to Dr. Ramon Rodriguez, the Principal Investigator at Charter Research. He talked to me and told me the direction of the trial, the information they needed, and how it might be more helpful because nothing has really come out in the last 13 years about Alzheimer's and how to detect and treat it. He asked if I would be willing to join the trial, and I said absolutely. It could help me, but it can also help many others in the future.
BP: Could you tell me a little bit about what it is like to be a part of the trial?
JT: I go see Dr. Rodriguez, and he gives me the infusion. It takes me a couple of hours that day, and I do it once a month. I have not had any problems resulting from the medication and everything that he's been working with me on.
They screen me quite a bit and ask me a lot of questions. At first, they really went through lots of different tests with me to see what level my memory was at and what areas were weaker than others and which were stronger. I really appreciate all the tests, and I have to say some of it was very difficult going through, but I totally understood, and I tried my best.
I haven't had any side effects whatsoever, and Dr. Rodriguez definitely shares with you everything that he's thinking. When I'm there, they make sure that they're very careful and cautious. They're right there with me the entire time to be sure that nothing happens. And afterwards, I do not feel anything or have any problems at all.
BP: What is your experience like with the trial doctors and staff?
JT: They are very safety minded. Dr. Rodriguez makes sure that when I come in, he examines me, and he has me do different kinds of activities to be sure that there are no problems. For instance, he might ask me to walk down the hall, and I'll walk down the hall, and he'll say, "I want you to turn around and walk with one foot in front of the other." He does all kinds of activities just to be sure of what my equilibrium is and how I'm functioning. It's not like going in and sitting down and having a needle put in you and they say "OK, yes that's all." They're very, very, very conscientious.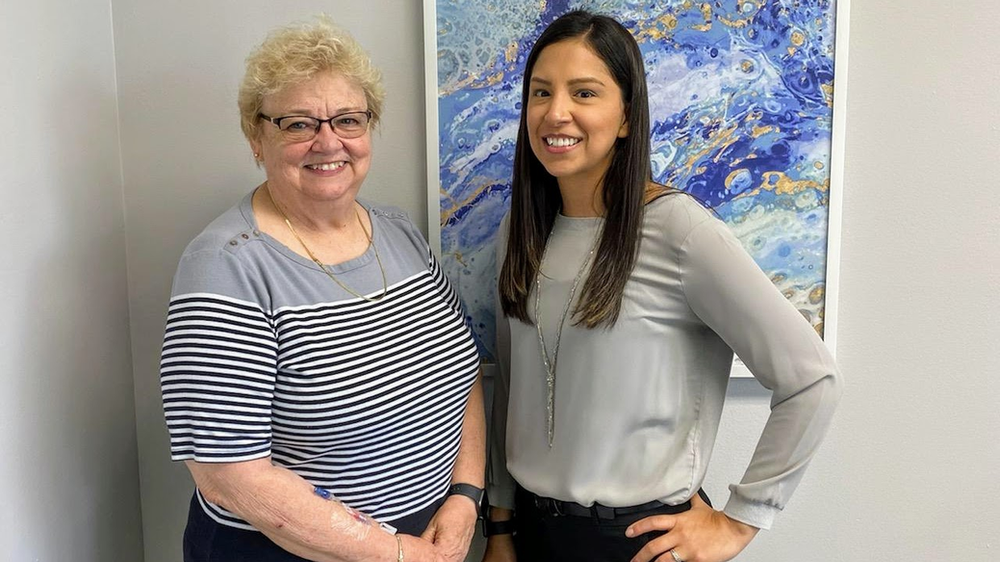 They are so friendly and so open, and they always ask me about my family, the things I'm involved in, how I'm doing, and if I'm having any problems. It's a very personal kind of conversation. It's not just, "Oh, let me take your temperature and check your heartbeat."
BP: Is participating in the clinical trial something you would recommend to others who may be showing symptoms of early Alzheimer's disease?
JT: I absolutely would as it could really help and make an impact in the direction of medications for Alzheimer's. I think that's something that's absolutely needed in our nation for Alzheimer's. I would certainly recommend seeking a doctor's help, and in a clinical trial, you may have access to new medications that may be coming out in the future.
BP: What did you notice that made you go to the doctor to screen for Alzheimer's in the first place?
JT: I really wanted to go just to be sure everything with me was OK, but I also knew that I had signs of potential Alzheimer's; I started forgetting things. I talked to friends and my regular doctor about how I was feeling and that things were changing. My doctor said he thought that we needed to get ahead of this, and he wanted me to go and see a specialty doctor, rather than relying on him.
BP: I know that there has been word of side effects due to the drug, as about 27 percent of participants treated with donanemab have experienced brain swelling. Have you experienced any side effects? Did you have any fears regarding the medication and participating in the trial?
JT: No, no baseline fear, and when I talked to the doctor, I felt very comfortable and very, very safe. I believed it was something that could have an impact and potentially help with slowing down Alzheimer's.
Now whether it will totally take it away, I don't know from my own opinion. But I do know that I really believe that it would be something that may help slow it down. Doesn't mean it will totally disappear, but at least I have a comfort level of thinking that it might slow it down so that my memory could stay what it is right now.
BP: Certain lifestyle changes – like exercise, sleep patterns, and specific diet types – have been linked to a reduced rate of cognitive decline. Aside from the trial, are there any other things you're doing to help slow the progression of the disease?
JT: I've been trying to work on my diet and have been looking at what I'm eating, and I've been doing much better on that. I've been trying to lose weight as well, so I've been in the process of doing that; It just takes time, and I'm not overwhelmed by it. I've got someone that comes at least once a week and exercises with me now, and she's wonderful; she spends at least an hour with me once a week.
That has been really, really helpful. Thinking about my eating habits makes me think about my activities, and I'd say it even helps my brain. For instance, knowing that I can move, function, do lots of things, walk fast, or do all the exercises has really meant a lot to me.
BP: Is there anything you'd like to add about your experience with the trial?
JT: It's an honor to be part of that trial to know that it may change other people's lives, especially with Dr. Rodriguez because he is so committed to wanting to help people. To think it takes so much time for someone like a doctor to do these kinds of trials when they could just be seeing regular patients and the kinds of earnings that they could be getting, to think that they care enough about the future of other people is so rewarding to me that I have him as a doctor.