Article
Helping the Helpers: Four Ways Caregivers and Spouses Can Stay Healthy and Avoid Burnout
When a person is diagnosed with Alzheimer's or dementia, their family members are often the first who step up to help. Of dementia caregivers across the U.S., only about a quarter are from outside the circle of spouses, siblings, children, other family and close friends.
Studies show that many caregivers face stress, mental health challenges and "caregiver guilt," at times feeling like they must sacrifice their own self-care in service of the person for whom they are caring. More than nine in 10 caregivers are also sleep-deprived. Accordingly, they may be at higher risk for both physical and mental health conditions: Some are more than twice as likely to develop depression, a major risk factor for dementia; others are almost twice as likely to develop cognitive impairment themselves.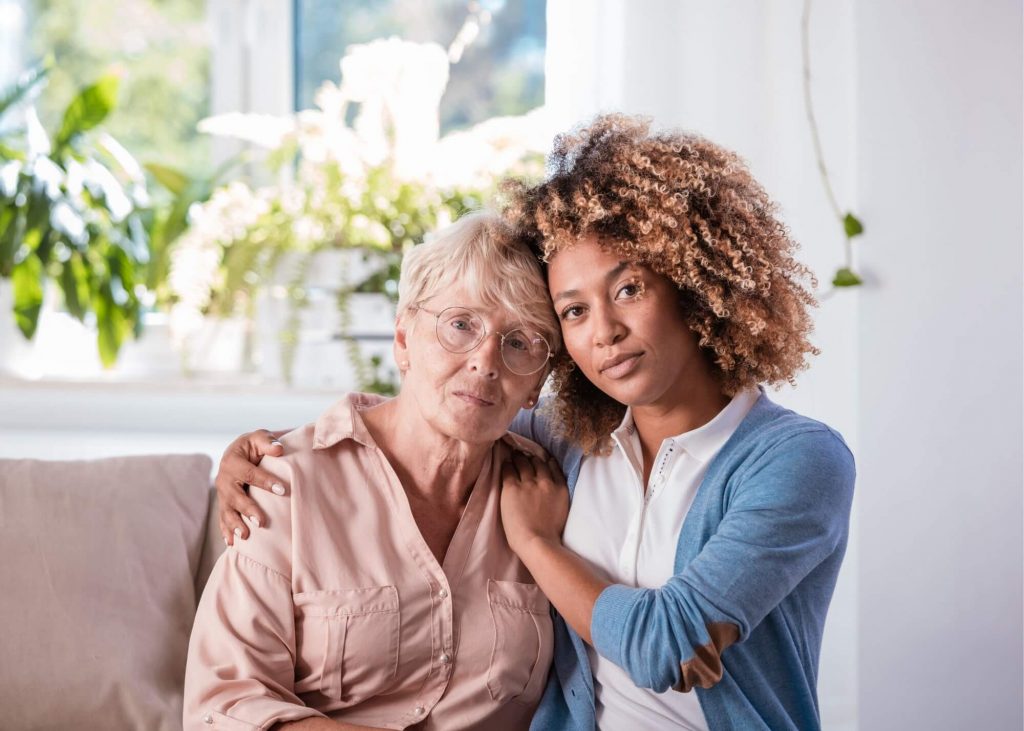 Underlying all of this is the importance of preventing burnout. Here are a few science-backed strategies that can help.
1. Finding time for yourself
According to psychologist and author Dale Atkins, practicing self-care and compassion is critical to help caregivers sustain themselves.
"Are we able to get a neighbor to come in to sit with our loved one for a while and listen to music, or to play a game, or to perhaps plant a plant in a pot, while we take a 10-minute break or a 15-minute break?" Atkins asked. As challenging as it may be to carve out time for oneself, she noted, it is important for caregivers to find time during the day where they can center themselves and attend to their own physical and mental health. Taking care of oneself, she reminds us, is central to one's ability to take care of another.
2. Joining a support group
In support groups, caregivers can meet others who've walked in their shoes. Research shows participating in these groups tends to have a positive impact on caregiver well-being — it could even help reduce symptoms of depression.
One such group established In New York, the Memory Advocate Peers program, brings together couples where one spouse has developed dementia or cognitive impairment. These couples have the opportunity to connect with volunteer mentors who know what it's like to care for a spouse with dementia
"[Family caregivers] become experts in caregiving and the medical system," Alzheimer's advocate Jim Taylor, founder of the Memory Advocate Peers Program, told Being Patient, noting that this expertise could be invaluable to newcomers dealing with a dementia diagnosis in their marriage.
3. Get moving
Studies show that exercise causes the release of hormones that produce stress-relief and may also reduce symptoms of anxiety or depression. Suffice it to say, staying physically active boosts both your body and your brain. Exercise doesn't need to be strenuous to exert these beneficial effects: Experts say that even taking a stroll outside is shown to improve mood and reduce stress in both the short and long-term.
4. Ask for help if you're feeling burned out
While the caregiving journey is a tough one, experts say there's one important thing caregivers should always remember: Don't hesitate to ask for help when you need it. Many others are going through similar experiences — and many advocacy and community organizations, healthcare professionals, therapists — and sometimes, friends and family who might step in if they knew how — are out there ready to help.
Despite the resources available, a caregiver survey revealed that three out of four caregivers decline to take advantage of the support that's out there just for them.
Studies support therapy as an effective tool for learning strategies to prevent caregiver burnout, manage caregiver guilt and deal with depression. Don't think you have time for it? Apply to get paid for your family caregiving time, or build out a caregiving team that can support you when you need a break, whether paid or volunteer.
The caregiving experience is hard but rewarding
Many caregivers find the experience of making a loved one safe and comfortable to be deeply rewarding. Many caregivers report feeling a sense of personal accomplishment, growth and gratification, an increased sense of family cohesion, and a newfound purpose in their lives.
In a caregiving role, prioritize your health, carve out time for yourself, join support networks, stay active, and don't isolate. The best way to be a good caregiver to a loved one is to take good care of yourself.
To learn about clinical trials of new medications that aim to modify the pathology of Alzheimer's disease, call Charter Research at 407-337-1000 (Orlando) or 352-775-1000 (The Villages).